What did your grandparents do for a living?
What did they teach you about work?
Join us in honoring our grandparents…
by sharing stories, photos and memories…
What did your grandparents do for a living?
What did your grandparents teach you about work?
How did your grandparents work lives shape who you are today?
Work is a huge part of our lives, from the jobs we do to the skills we develop and the careers we try to build. And just as significantly, the jobs that our grandparents had play a huge role in our family history, setting us on a path to who we've each become. While the world of work has changed dramatically from one generation to the next, what hasn't changed is why we work – to earn a decent living, to take care of our loved ones, and to retire with dignity.
As we celebrate Labor Day and Grandparents Day in the same week, we want to take a look back at the jobs and hard work of our grandparents.
Join us in honoring our grandparents by sharing a photo or quick story about the way they worked »
Stories of the Way They Worked
Take a look back.
My grandmother worked in a clinic for government employees in Taiwan for over 40 years, first as a nurse and eventually as a clinic administrator. She has an energy about her; her spirit is incredibly active. Even when she's simply listening, she's completely engaged and taking everything in as if it holds the secrets of the universe. She's been this way ever since I can remember. I believe it made her a wonderful nurse, leader and caregiver. She also never hesitated to offer wisdom: she urged me never to fear or avoid hardship, it's always best to face it because it's just part of life. And, no matter what, to always be kind and caring. "Caregiving is one of life's greatest gifts." And she didn't mean receiving care, she meant being able to choose to give care to another person is a sign that you're truly alive and connected to others. That ethic has kept her grounded, energized and joyful in her work and in life in general for 88 years and counting. I know many care workers today who live by that ethic, and I'm so grateful that one of them, Mrs. Sun, now supports my grandmother to live independently in her home in California near my uncle and sister. Ai-jen Poo is the Director of the National Domestic Workers Alliance and Co-director of the Caring Across Generations campaign... read more
A project of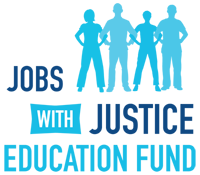 © Jobs With Justice Education Fund. This site also features some media available under a Creative Commons Attribution-Noncommercial license.